Getting Started
Submitting photos for review?
Stockmatik is always looking for new content to add to our collection. Contributing images to Stockmatik is free and you will retain the copyright to your work.
Submitting photos to Stockmatik is simple.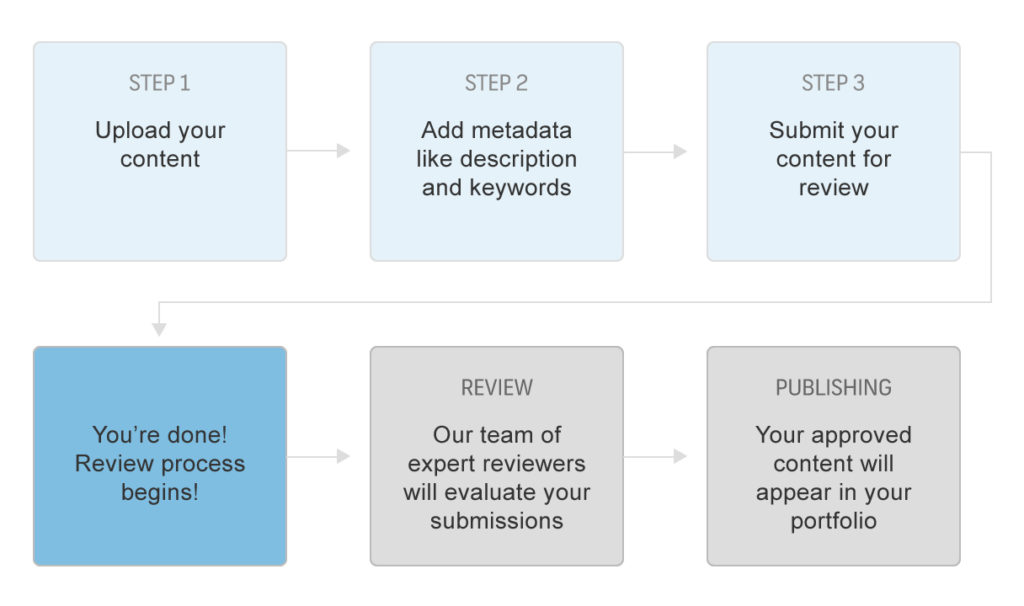 Quality
Photos that are submitted to Stockmatik must be of professional quality and each image will be evaluated by a reviewer. You can learn more about our review process here: How is content reviewed?
File types and sizes:
We accept JPEG files that are at least 4 megapixels or larger. You will find more information on technical requirements here: What are the technical requirements for images?
Step 1: Upload Your Content
JPEG under 50 megabytes can be uploaded directly from the Upload page in your account. Click on Upload at the top of your contributor account page.
If you experience issues with uploading, check out the troubleshooting uploading errors guide.
Step 2: Tagging and Metadata
Once your photos have successfully uploaded you will need to enter titles (description), keywords, and categories. This information is known as metadata, and makes it possible for people to discover your photos. We've published some tips here: Title and Keyword Guidelines, Policies and Best Practices.
You can also add any of the following, if necessary:
Property release
Model release
Editorial designation
Notes for reviewer
Step 3: Submit Your Content
Once your content is ready, just click Submit to send it for review.
If nothing happens after clicking Submit, it is most likely because your submission contains an error. The most common error is misspelled keywords, which are outlined in red. Learn more about correcting errors in the Content Editor.
If you are not quite ready to submit at this time, you can click Save in the top right of the Content Editor window and save your uploaded content for submission at a later time. You have up to 21 days to submit uploaded content for review. If you do not submit your work to us within that timeframe, it will automatically be deleted from our servers.
What happens next:
You will receive an automated email from Stockmatik confirming that we received your submission. Within a few hours your submitted content will appear in the Pending Approval section of the Contributor Dashboard.
Once your content has been reviewed, you will receive an automated email from Stockmatik, notifying you of which images have been approved into your portfolio. It may take up to 72 hours for newly approved content to show up in your portfolio.
Technical requirements for images?
File Format
We accept images in JPEG format. We do not currently accept PSD files or TIFFs with layers.
Color profile
Stockmatik images are offered in sRGB since most images on the Internet are displayed in that profile. If you submit images in a different color profile, the colors will likely be altered during conversion to sRGB, so we recommend converting your images to sRGB before uploading them to Stockmatik.
File Size
All images must be at least 4 MP (megapixels), but preferably 5 MP or larger and set at highest quality settings to produce an acceptable file dimension for submission to Stockmatik.
Please keep in mind that megapixels (MP) are different from megabytes (MB), as they refer to the dimensions and not the file size. To determine the amount of pixels in an image, multiply the pixel width by the pixel length. For example:
2000 x 2400 pixels = 4.8 Megapixels. A file of this size is acceptable.
1200 x 3000 pixels = 3.6 Megapixels. This is smaller than our minimum size requirement, and this file will not be accepted by our system.
The maximum file size you can upload using your web browser/Content Editor is 64 MB. If you upload via FTP,  you can upload JPEGs up to 64 MB in size.
Title and Keyword Guidelines, Policies and Best Practices
Excellent metadata (titles and keywords) helps customers discover your content. We have developed guidelines to help you create the best titles and keywords, and to help you understand how to use metadata that is compliant with our policies.
Titles and keywords have different purposes and require different approaches. Your titles and keywords should adhere to the guidelines outlined below. Remember that the overuse of repeated words or phrases is considered spam in both the keywords and the titles. Intentional disregard of any of Stockmatik's metadata policies can result in account termination.
Titles
Great titles are unique and detailed. They read like a sentence or phrase and not like a list of words. Think of your title as a news headline and try to answer the main questions of: Who, What, When, Where, and Why. Be descriptive and use words that capture the emotion or mood of the image.
Keywords
Great keywords are detailed and precise. They relate directly to what is in the image or clip, either by describing what it shows, or what it might represent. The keywords for each of your images or clips should be precisely tailored to that individual work.
How is content reviewed?
Reviewers
Our review team is a global network of professionals with significant experience in the creative sector. But besides being artists themselves, our reviewers are also thoroughly trained on Stockmatik technical and metadata standards as well as compliance policies.
Review Guidelines
Our reviewer team's philosophy is based on a number of variables with customer satisfaction as a principal theme. All content is reviewed with consideration of the following:
Technical execution — this includes factors like lighting, focus, and noise for photo and video. For illustrations factors such as gradient and blend rendering, as well as path construction are evaluated.
Metadata — titles and keywords are reviewed for accuracy and relevance, as well as compliance restrictions.
Intellectual property — content is evaluated for potential trademark or intellectual property violations, as well as possible copyright infringements.
Releases – all content is evaluated for any necessary property or model release requirements and each release is reviewed for adherence to our release requirements.
Policy – submissions are monitored for adherence to Stockmatik content policies, like similar content and spamming.
Review timelines
We strive to review all submitted content as quickly as possible, and most submissions are reviewed within 72 hours. However, during times of increased submissions traffic, the reviewing process time may take up to 7 business days.
All content is funneled into separate queues by media type, so review times may also vary by type of content. In certain cases a longer than usual review time indicates that your content was escalated to be reviewed by a manager. This does not mean there is anything wrong with your submission, but simply indicates that a reviewer requested a more authoritative judgment or answer before choosing to accept or reject a group of images.
Review accuracy
Since all content is reviewed by individual reviewers, it is possible that different reviewers may have slightly different views about what is acceptable content. If you disagree with the result of a review based on technical execution, you can submit your content for another review. If you don't understand the reason for a rejection, you can read a more detailed explanation in our support center. You can also contact our Contributor Care team if you need additional information.
How much will I be paid as a contributor to Stockmatik?
Stockmatik pays contributors a 50% commission on sales